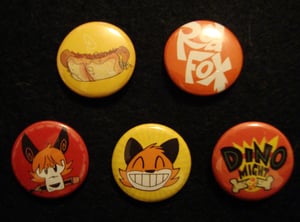 £

0.50 - On Sale
Badges? Badges? YOU TOTALLY NEED THESE STEENKING BADGES. The sooner I sell out of these the sooner I can stop making that reference all the time.
Available in these designs: Red Fox Logo, Kawaii Red Fox, Dino-Might Logo, Pencil Gear Solid, Chicken Hotdog, or in a set of all 5 should you feel extravagant!
Badges are 1" diameter.